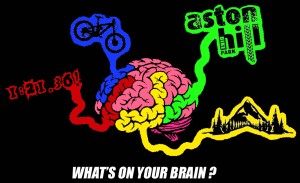 Right guys and gals ITS COMPETITION TIME, We want to know "WHAT'S ON YOUR BRAIN?" so as you all know our super duper mega fantastic all weather trail is being built.
Well, we want YOU to name it! Just send me your name and trail name (keep it clean!) and put in the subject header "WHAT'S ON YOUR BRAIN? COMP" to anarchyATrideastonhillDOTco.uk and replace AT with @ and DOT with .
If your name gets picked then you will have your chosen name put on the new trail sign and you will also be the FIRST member of the public to ride it on Opening Jam day.
There will also be a few prizes for the winner including something from our parteners at the Hill WWW.MADISON.CO.UK and a signed Danny Hart poster from his World Champs run and we will give 2nd and 3rd place a prize too! Just cos we're nice people!
We also need names for the DH3 and the 4-2-3 so get creative. We will also sort some prizes for the winners of these too. YOU LUCKY LOT!
Don't forget to say which trail your name is for though.
So get your entries in NOW! Competition Closes 1st June, and we will notify the winner and runners up once we confirm opening Jam day.
GOOD LUCK!
more...