Archive for December, 2011
Dec
Work on DH4 has started.
And it's big.
more...
Dec
A quick reminder that Aston Hill is shut tommorrow for Christmas Day. Look at it as a chance to unwrap some shiny bits and get them set-up, all ready to get them absolutely filthy Boxing Day.
On that note, may we at Aston Hill wish you a very merry Christmas and very happy new year. May Santa bring you all the shiny kit you've asked for!
more...
Dec
Calling all racers!
These are the provisional dates for races on the Hill in 2012.
As with any event the dates are subject to change until totally, totally nailed into the ground, (etc etc blah blah blah), but we're confident enough in them to say get 'em in your diary!
Round 1 (Spring): March 25th
Round 2 (Summer): May 20th
Round 3 (Autumn): September 9th
Tracks to be decided, but expect plenty of spade work over the winter and some announcements soon!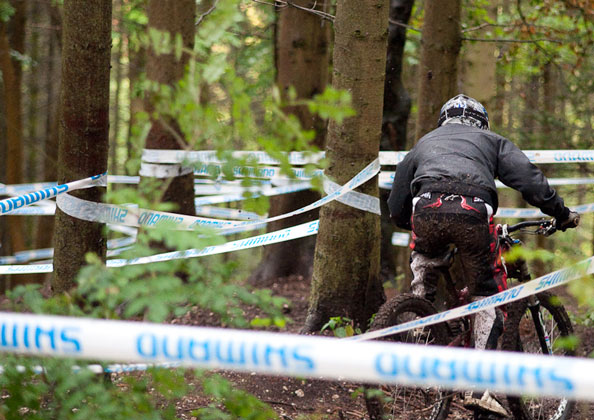 more...
Dec
Grippery 4: Not as great as the prequels, but still pretty good.
Please note Aston Hill will be shut on Sunday for the British Winter Series race.
For the time of year it's pretty incredible out there. On Wednesday night the local trails were running amazingly well, but there has been some heavy rain since Thursday night. Saying that, the ground is not yet saturated and the winds have been brisk, so hopefully it won't have affected things too much.
Saturday looks the better day with plenty of winter sun, with things probably turning a little greasier Sunday on race day. The Hill will be shut to the public on Sunday but there's still race places available, so come along if you fancy a go!
As for the weekend, expect grease (especially in the sections that get little sun and wind, or where the chalk is obvious) as a worse case scenario and be pleasantly surprised if it's better!
The brisk breeze will help to dry things out, is also very cold. It will be chilly where exposed, so come prepared and bring something warm for the carpark.
If it's your first time riding at Aston Hill read the essentials and the frequently asked questions - they answer most enquiries people have about the park. Also bear in mind that Aston Hill becomes a far more technical venue in the wet, so take extra care.
more...