Saturday's for tweaking, Sunday's for ragging.
This weekend is the Glastonbury Festival (yeah - it wasn't last weekend - our bad!), so rain is expected, if we're honest. This year is no break from tradition, but it's not all bad news!
It's been a wet ol' week, but amazingly the ground under the usual layer of sludge is remarkably dry. So after a wet and warm Saturday (a great excuse to sort the steed out before an evening with mates round the BBQ with Glasto on the TV) Sunday is set to be glorious sunshine and over 20 degrees C.
Even after the biblical downpours of the week, the Hill should dry pretty quickly wherever the Sun can get to the ground. Consequently expect nice, roosty conditions Sunday, but be prepared for a few slippery patches in the trees, especially earlier in the day.
Tyre choice? If you're still running Swamp Things I'd consider leaving them on this weekend.
If it's your first time riding at Aston Hill read the essentials and the frequently asked questions - they answer most enquiries people have about the park. It's also worth bearing in mind that Aston Hill becomes a far more technical venue in the wet!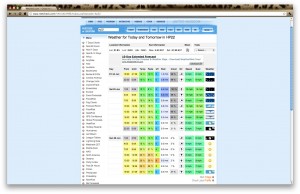 more...