Yes, it's true. After years of listening to riders saying that they want an uplift, the Aston Hill think tank have finally worked out a solution that should solve the problem for once and for all.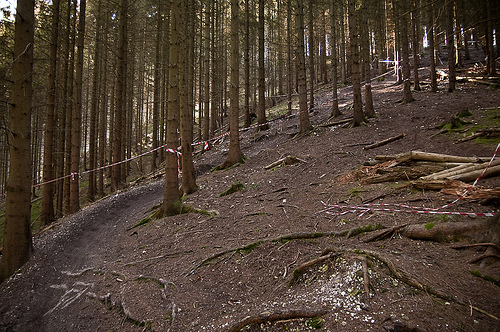 We all know how how hard it is pushing back up Aston Hill. The uplift should solve all this.

Marketing Officer Neil Cain had the idea after seeing locals on Croatia's Peljesac Penisular - a mountainous penisular with few roads leading to the dwellings on the top - transporting food and wares back home. Neil says " After the recent barrage of emails and calls about the lack of uplift at Aston Hill, it's been on my mind quite a lot. So when I was hiking back down from the highest point of the Peljesac and passed a couple of guys hiking back up, it got me thinking.
"They looked stereotypically rural Croatian, and the older gent was riding a packhorse which was also carrying all their supplies. It was then it dawned on me; here's a couple of guys with access issues similar to those on Aston Hill. They have tenuous vehicle access between the top and bottom of their respective hill, and have reverted back to reliable, tried and tested methods of transporting everything they need to survive to the top. That's when I had an idea."
The Peljsac Peninsular.
The solution's name is Mr. Crusty and he's a rescue donkey from Island Farm Donkey Sanctuary near Wallingford in Oxfordshire.
After a few trial runs it seems that Mr. Crusty is very at home on the Hill. He happily tows a small trailer which can hold either three bikes or one bike and a rider, and takes approximately ten minutes to walk up the long push path. A Hillbilly dig day is also being planned to make access past the halfway steps a little easier.
He's also been given a stable in the Forestry Commission office area and a food sponsorship from neighbour Bill (the farmer and landowner of the Aston Hill overflow car park). A custom all-terrrain trailer specifically designed for transporting unwieldy downhill rigs is also currently being made.
Mr. Crusty is a very loveable cheeky chappy (photo courtesy of openmouthboy).
Once up and running, the uplift should be a bit of a bargain at around £10 for the day, plus carrots for Mr. Crusty. To book your place, please see the Forestry Commission ranger when buying your daypass. To find out more about Mr. Crusty, click here.
13 Responses to "Aston Hill gets an uplift!"