The first Hillbilly Trail Crew meet happened on Sunday 7th November with a very specific objective in mind: to get an old 'secret' piece of the XC route open and linking into the bottom of the Red Run. 22 people showed up at stupid o'clock on a positively autumnal morning with a combination of wild enthusiasm, hot coffee and hangovers, and got kitted up with shovels, mattocks, leaf-blowers and rakes.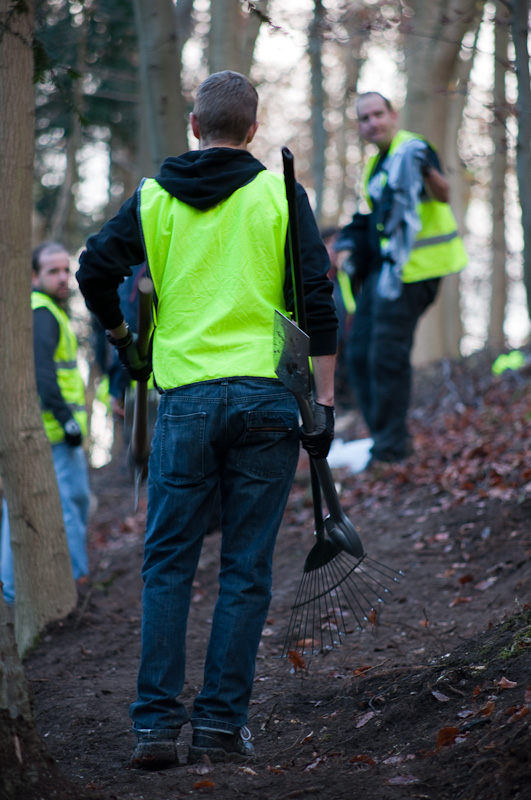 The 'secret trail' was originally started several years back as a way of getting from the Red Run over towards the finish of the Black Run, avoiding the more technical end of the Red downhill. Since then there's been some occasional work, but nowhere near enough to open it up. However, there have been up-sides with it hosting at least one magazine photo shoot!
A lot of the fundamental work had already been done - cutting a bench into the hill and creating some swooping turns on the way back down - but there was still a lot of trail to dig and more to reinforce and repair. It should be pointed out, as it was during Ian Warby's various trail master-classes of the day, that building solid, sustainable trail is a very different matter to cutting a few lines for you and your mates.
A sustainable trail needs to drain well, survive all weathers and take very regular abuse from riders of all levels, so needs to be built slowly, carefully and with a lot of thought. Building a trail properly on your own takes an awful lot of time; it took Ian nine months to build the XC climb at the back of the park. However, we had 48 motivated hands and boy, did they get used.
The entrance to this new trail (the Hillbilly Rollercoaster?) is shortly before the large bus-stop on the Red Run and climbs off to the right. Yes, that's right - climbs! It then drops through several swooping, bermed corners before joining the Red again at the start of the boardwalk and dropping onto the access road. It's a rollercoaster of a trail, guaranteed to bring grins to the faces of riders of all abilities.

Three groups worked the day clearing, reinforcing and digging trail. The sheer enthusiasm and hard work of the group was overwhelming, and by 1pm it became clear that we would actually achieve something that had been considered only a slim possibility at 10am: today we would open a completed track.
By 1.30pm the crew were packing up and the tape at the trailhead was removed - it was done. Aston Hill had a new trail.


Chairman Rich fired up the BBQ and prepared a meat-feast, Hillbillies sat down and ate in a haze of steaming tea and the younger riders downed chocolate cake before getting kitted up to head back onto the Hill. It was early afternoon and there was still quite a bit of daylight left - it seemed a shame to waste it. And who could blame them? There was a brand new trail to ride!
It goes without saying - a massive, massive thanks to all who showed up and dug, especially those from further afield (including the guys from Tidworth Freeride). It was a great morning - hope you all enjoyed it!
If you want to get involved in future digs then sign up to the digging list and keep an eye on www.rideastonhill.co.uk.
The next dig day is in December, exact date TBC - drop a line to gardeningwithoutthevegetables@rideastonhill.co.uk if you want to take part!
8 Responses to "A new trail is born"