September the 5th saw two very important races happen on the downhill circuit. While T-Mo was setting the Canadian mountainside alight with her blitzing run, the second (only slightly less important) event was taking place on this side of the pond - the Eastern and Central Champs at Aston Hill.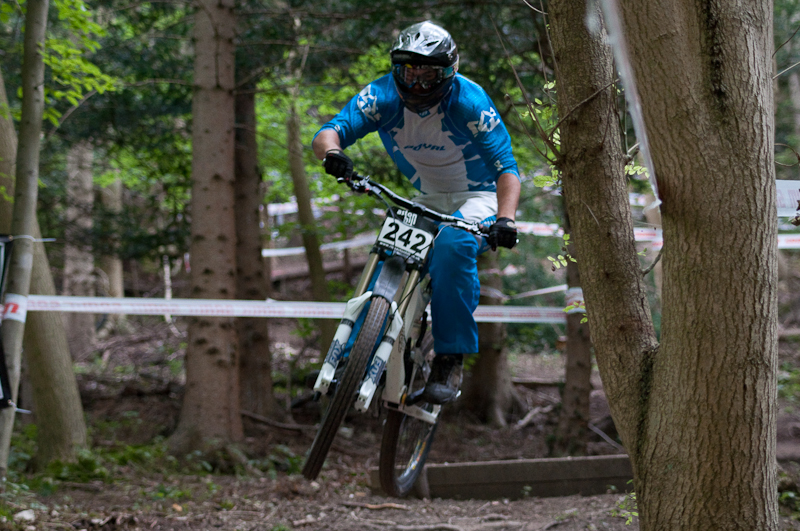 After an incredible response online, the race had practically sold out Saturday - the only spaces left were those that had been vacated by a couple of unfortunate practice crash victims, one of whom enjoyed a helicopter ride courtesy of the National Health Service.

The day itself started in a typically misty Aston Hill fashion and the expected sun unfortunately never materialised. However, this didn't deter several racers turning up before 7am to nab the final few places.
The race was held on one of Aston Hill's shorter runs - the 423 - designed by John Holbrook for last year's Southern Championships. In the past year the course has changed an awful lot and was described by one rider as 'savage' - it seems a strange complaint, but it was almost too quick. Dry and compact, but without being dusty, it was seeing racers over-cooking jumps, blowing through corners and finding trouble in the most unlikely spots. In fact, by the end of the morning Elite rider Harry Molloy was on the verge of breaking the minute mark and Youth rider Phil Atwill was only a second and a half behind him - unheard of on a track that last year didn't see anyone finish faster than 1.06. It quickly became apparent that fast times and even faster reactions were the order of the day, and the packed field didn't disappoint.
By the end of the second half no-one had broken the minute mark. However, as Harry Molloy - fresh from his first World Cup - headed off he gave the impression that he was flying as he whipped through the top section, wheels barely touching the ground. Sure enough as he dropped through the finish line he'd done it - a new course record was set at 0.59.62. That wasn't just quick - it was verging on superhuman. It should also be noted that the top 24 riders all finished inside 1.05 - it was a quick field on a quick course.
As the results came in, it was clear it had been a very tight race. Daniel Jary beat off Aston Hill hardtail favourite Ben Deakin to win the Dialled Bikes Alpine frame, getting several jealous looks from the assembled crowd (will we see it built up at the next race?). William Weston had an amazing run to win the Juveniles in a time of 1:09.97 - two seconds ahead of Jordan Meade, who only just pipped Campbell Woods by a margin tighter than most pairs of jeans at the race - 0.7 of a second. Philip Atwill ruled the Youth category with a time that placed him third overall - clearly one to watch for the future! In what seemed to be becoming a pattern, second and third were hotly contested - Michael O'Brien slipped through the finish line 0.15 seconds quicker than Josh Lowe. Junior Sam Wakefield used his local knowledge and recent training to full advantage and took the hot seat a convincing 1.82 secs in front of Callum Dew, who in turn was 0.36 seconds in front Mitchell Ingley.
Jamie Smith lead the uber-competitive Masters home to roost - 0.10 seconds ahead of Tristan Tunstall - which were quickly followed by Veteran Trevor Harvey who romped in over two seconds quicker than Rich Simpson. Emma Wareham descended from the grim north to give us eastern and central dwellers a lesson in going downhill - a lesson of over six seconds as it turned out. Other than the Elites, this only left us with the largest category of the day to ride - the Seniors. Ross Hammond beat off all competition by over a second (and a time which would have placed him 9th in Elite), followed by sponsor Upgrade Bikes's Liam Saint, who won some non-Upgrade Bikes products on the podium. Everyone's a winner! Ross Searle finished 0.12 seconds behind Liam, once again adding another second/third battle to the day.
However, it really was the Elite category that made the news; Harry Molloy was taking no prisoners. Not only did he beat second place Sam Shucksmith by nearly 1.5 seconds, but he was the only man to break the minute barrier on the course. Harry quite rightfully won the Elite category, as well as getting fastest time on the course. The only thing I want to know is this: as you don't run them (and I do), what are you doing with your Rock Shox service prize Harry?
Full race times are at www.mikrotime.com/mtb/ast2010/ast1002.html.
Race-day photographer Ian Cross of of Pics4All has put his photos on his Flickr pages, the ever-present Red Mist Racing's shots are on Picasaweb, Mick Kirkman has a short video and some great shots on his Flickr pool and you can always check out the Aston Hill Flickr group: www.flickr.com/groups/rideastonhill/.
Many, many thanks to all the category sponsors (Dialled Bikes, Fisher for SRAM, Truvativ, Airace, Kaaboom! and Troy Lee Designs, Upgrade Bikes for DMR and Geax, Ison Distribution for Halo and Gusset, Madison.co.uk for Bell and Thor, Chocolate Distribution for Nema and Tring Brewery for beer!) and the other sponsors who donated prizes that were generously sprinkled throughout the categories (Continental for two sets of Rain Kings, Dees Cycles for the Specialized kit, Monster Energy for tees, caps and monsterous Monster tinnies, and Swiss and Swallow for organic tees) - again, in what is still a tough financial climate we were truly, truly overwhelmed by your generosity, support and presence at the race.
A big nod of respect needs to go out to all the marshalls, Cafe in the Woods, the registration ladies, Extreme Medics, BC commissaires, Mikrotime and the Aston Hill organisers and members.
Finally, a massive well done to all who raced. It was an awesome day of top-notch, balls-out racing (including the super-stylish ladies) and you guys and gals made the event. Thank you and see you in March!